Dr. Dayna Baillo attended veterinary school in Lansing, MI at Michigan State University. She became a vet because of her love of animals and helping animals. From childhood, Dr. Dayna explored all animals and told her mother, a licensed veterinary technician, she was going to be a vet and have 5 dogs. She began working in the veterinary field with her step-father and mother as a young teen. While attending MSU she worked at Michigan State Small Animal Emergency clinic where she gained vital knowledge in emergency, internal medicine, ophthalmology, orthopedics, and oncology.
She focuses on practicing comprehensive, high quality and progressive medicine to promote wellness and restore health. It is her goal to continue to provide an attentive, one-on-one experience for clients and their beloved pets for many more years to come.
Dr. Dayna Baillo's individual areas of interest include Ophthalmology, Dermatology, Dentistry, Medical Massage, Physical Therapy and Rehabilitation, as well as Cold Laser Therapy. Dr. Dayna moved to Steamboat in the fall of 2011 after graduating from veterinary school. She worked in a few years here in small animal private practice before opening Mountain Peaks Veterinary Clinic.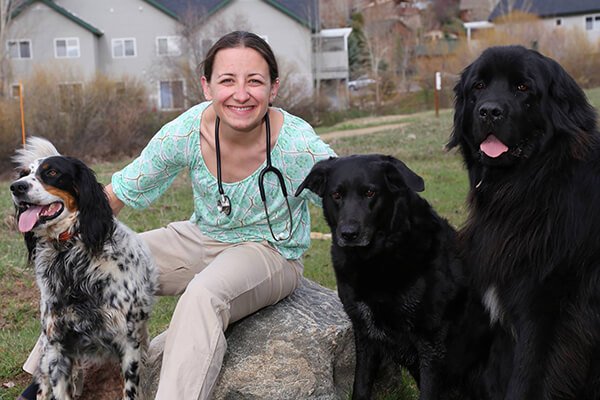 Outside of the Mountain Peaks Veterinary Clinic, Dr. Baillo enjoys snowboarding, snowshoeing, gardening, hiking, sewing, running, among other activities Steamboat Springs has to offer. Her home life is shared with her loving 2 dogs (Hyde, Henry) and 2 cats (Fez and Timmy)!
Dr. Baillo is a member of AVMA, CVMA, and AHVMA.